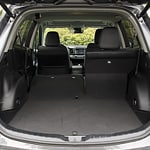 When it comes to finding a new vehicle, there's so many options to choose from. One of the newer segments to arrive has been the crossover category. Just what is a crossover, and why should you purchase one for your next new vehicle?
Today a crossover generally means a compact SUV and other similar body styles. Crossovers give you the versatility of a full-sized SUV with the fuel efficiency of a smaller vehicle. Having a smaller vehicle like a crossover doesn't mean that you that you have to give up on options. On many crossovers, you can equip an all-wheel drive system for added stability on the road.
Some are even equipped with more powerful engines that allow you to do some towing as well. Hybrid crossovers can have the added benefit of utilizing an electric motor alongside the gas engine for extra power when you need it.